Atlas 3 rocket gives Asian satellite ride to orbit
BY JUSTIN RAY
SPACEFLIGHT NOW
Posted: April 11, 2003

| | |
| --- | --- |
| | The Lockheed Martin Atlas 3B launches with AsiaSat 4. Photo: ILS |
An Asian telecommunications spacecraft that will cover over 40 countries from the Middle East to New Zealand was successfully launched Friday night by a Lockheed Martin Atlas 3B rocket from Cape Canaveral.

Powered by the Russian RD-180 main engine, the booster blasted off at 8:47 p.m. EDT from pad 36B.

Just over a half-hour later, the "stretched" Centaur upper stage fitted with a single RL-10 engine for this flight deployed the AsiaSat 4 satellite into geosynchronous transfer orbit.

"We are extremely pleased that AsiaSat 4 has successfully completed this stage of the launch. We thank our partners, Boeing Satellite Systems and International Launch Services, for their excellent work and effort in making today's launch a success," said Peter Jackson, chief executive officer of Hong Kong-based Asia Satellite Telecommunications Company Limited.

This was the 64th straight success for the Atlas family of rockets dating back to 1993. It was the third flight of Atlas 3 since 2000.

The mission was managed by International Launch Services -- the joint venture between Lockheed Martin and Russian firms Khrunichev and RSC Engeria to market the Atlas and Proton rocket fleets. This was ILS' first launch in 2003. Officials expect about 10 launches this year, split evenly between the two booster families.

AsiaSat 4 --built by Boeing using the 601HP model design -- will be operated in geostationary orbit at 122 degrees East longitude above the equator to relay television program, business, telephony and broadband services.
| | |
| --- | --- |
| | An artist's concept of AsiaSat 4 in space. Credit: Boeing |
"AsiaSat 4, along with our two other in-orbit satellites, AsiaSat 2 and AsiaSat 3S, will enable our customers to enjoy wider choices and greater flexibility for regional coverage as well as unbeatable back up across the entire fleet," Jackson said.

As the most powerful member of AsiaSat's satellite fleet, the AsiaSat 4 carries 28 C-band and 20 Ku-band transponders with a 15-year design life. The pan-Asian C-band footprint will cover more than 40 countries and regions spanning from Auckland to Tehran. Its Ku-band coverage will consist of two high-power focused beams for East Asia and Australasia, as well as direct-to-home services in Hong Kong and the adjacent South China region.

The AsiaSat 4 spacecraft, the Atlas 3B rocket and insurance was valued at $240 million, AsiaSat said.

The launch of AsiaSat 4 was delayed from last spring to perform additional testing on the craft.

"Over the last year we have spent a lot of extra time on the spacecraft in El Segundo to make sure that every piece of equipment had the highest quality. So it we went through over a year of integration tests, which is uncommon for the 601HP but it was essential that we make that everything was right for this mission," Dave Ryan, president of Boeing Satellite Systems, told Spaceflight Now.

"Toward the end of that, we particularly concentrated on the ion propulsion system to make sure that all of the design improvements that we were putting into it over the last couple of years were incorporated. So now we are confident that the system will last not only 15 years but it actually has a design capability for 19 years."

Next up for Atlas will be the launch of a Greek communications satellite on May 12 aboard the second Atlas 5 rocket. That is expected to be followed by the mid-June Atlas 2AS mission from Vandenberg Air Force Base in California carrying a classified cargo for the National Reconnaissance Office. Another Atlas 5 is planned in mid-July with the Rainbow 1 direct broadcasting satellite.


Video coverage for subscribers only:


VIDEO: 3 1/2-MINUTE MOVIE OF ATLAS 3 LAUNCHING ASIASAT 4 QT


VIDEO: NARRATED PREVIEW OF THIS LAUNCH QT


VIDEO: PRE-LAUNCH NEWS CONFERENCE HELD THURSDAY QT


VIDEO: REPLAY OF LAST YEAR'S MAIDEN ATLAS 3B LAUNCH QT


VIDEO: ATLAS 3B ROCKET PRE-LAUNCH PROCESSING QT


SUBSCRIBE NOW






Flight data file
Vehicle: Atlas 3B (AC-205)
Payload: AsiaSat 4
Launch date: April 11, 2003
Launch window: 8:08 to 9:20 p.m. EDT (0008-0120 GMT on 12th)
Launch site: Complex 36B, Cape Canaveral, Florida
Satellite broadcast: Galaxy 3, Transponder 1, C-band



Pre-launch briefing
Launch timeline - Chart with times and descriptions of events to occur during the launch.



Weather forecast - The latest forecast for launch day conditions.



Launch hazard area - The restricted area during liftoff.



Ground track - See the trajectory the rocket will follow during its flight.



Orbit insertion - Illustration of AsiaSat 4's trek to geostationary orbit.



AsiaSat 4 - Description of communications satellite cargo.



Atlas 3B vehicle data - Description of rocket being used in this launch.



The RD-180 - Facts and figures about the Russian-built engine to power Atlas 3 and 5.



Atlas directory - See our coverage of previous Atlas rocket flights.



ERROR: Random File Unopenable
The random file, as specified in the $random_file perl variable was unopenable.

The file was not found on your file system. This means that it has either not been created or the path you have specified in $trrandom_file is incorrect.


Columbia Report

A reproduction of the official accident investigation report into the loss of the space shuttle Columbia and its crew of seven.


Choose your store:
U.S. - U.K. - E.U. - Worldwide


Mars Panorama


DISCOUNTED! This 360 degree image was taken by the Mars Pathfinder, which landed on the Red Planet in July 1997. The Sojourner Rover is visible in the image.


Choose your store:
U.S.


Apollo 11 Mission Report

Apollo 11 - The NASA Mission Reports Vol. 3 is the first comprehensive study of man's first mission to another world is revealed in all of its startling complexity. Includes DVD!


Choose your store:
U.S. - U.K. - E.U. - Worldwide


Rocket DVD


If you've ever watched a launch from Kennedy Space Center, Cape Canaveral, Vandenberg Air Force Base or even Kodiak Island Alaska, there's no better way to describe what you witnessed than with this DVD.


Choose your store:
U.S. - U.K. - E.U. - Worldwide

An insider's view of how Apollo flight controllers operated and just what they faced when events were crucial.


Choose your store:
U.S.


STS-134 Patch



Free shipping to U.S. addresses!



The final planned flight of space shuttle Endeavour is symbolized in the official embroidered crew patch for STS-134. Available in our store!


U.S. STORE


WORLDWIDE STORE



Final Shuttle Mission Patch



Free shipping to U.S. addresses!



The crew emblem for the final space shuttle mission is now available in our store. Get this piece of history!


U.S. STORE


WORLDWIDE STORE



Apollo Collage


This beautiful one piece set features the Apollo program emblem surrounded by the individual mission logos.


U.S. STORE



STS-133 Patch



Free shipping to U.S. addresses!



The final planned flight of space shuttle Discovery is symbolized in the official embroidered crew patch for STS-133. Available in our store!


U.S. STORE


WORLDWIDE STORE



Anniversary Shuttle Patch



Free shipping to U.S. addresses!



This embroidered patch commemorates the 30th anniversary of the Space Shuttle Program. The design features the space shuttle Columbia's historic maiden flight of April 12, 1981.


U.S. STORE


WORLDWIDE STORE



Mercury anniversary



Free shipping to U.S. addresses!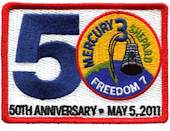 Celebrate the 50th anniversary of Alan Shephard's historic Mercury mission with this collectors' item, the official commemorative embroidered patch.


U.S. STORE


WORLDWIDE STORE



Get e-mail updates
Sign up for our NewsAlert service and have the latest news in astronomy and space e-mailed direct to your desktop (privacy note: your e-mail address will not be used for any other purpose).