UHF Follow-On Program
U.S. NAVY FACT SHEET
Posted: December 11, 2003


The Boeing-built UHF Follow-On (UFO) constellation is the primary U.S. Department of Defense (DoD) system for tactical mobile communications. The constellation, consisting of eight active spacecraft plus an in-orbit spare, supports the Navy's global communications network, serving ships at sea and a variety of other U.S. military fixed and mobile terminals.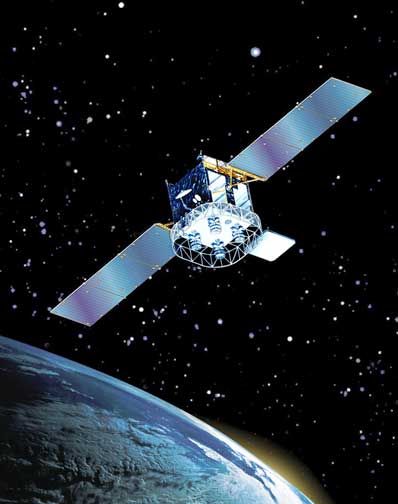 An artist's concept of UHF satellite in orbit. Photo: Boeing



The UFO constellation helps satisfy DoD's worldwide satellite communication requirements for Ultra High Frequency (UHF) and Extremely High Frequency (EHF) radio communications as well as Global Broadcast Service, or GBS capabilities, on spacecraft F8 through F10. These systems include protected fleet broadcast to all Navy ships plus command and control networks to selected aircraft, ships, submarines and ground forces.

UFO F11 is equipped with a UHF and EHF payload and an advanced tunable digital receiver that will enable this spacecraft to offer 41 channels. The F11 spacecraft is intended to sustain the constellation until the advent of DoD's next-generation Mobile User Objective System.

Users of the UFO system span all branches of the U.S. Armed Forces as well as the White House, the State Department and the Department of Homeland Security.

There are some 20,000 UHF satellite terminals currently in use. Many of these are small and portable enough to be carried deep into military theaters of operation. The UHF frequency offers the capability of penetrating jungle foliage and inclement weather, as well as urban canyons. U.S. military personnel on the front lines of battle count on UHF communications provided by the UFO spacecraft.

The EHF subsystem carried on F4 and subsequent satellites provides enhanced antijam telemetry, command, broadcast, and fleet interconnectivity communications, using advanced signal processing techniques. Beginning with UFO F7, the EHF package was enhanced to provide 20 channels through the use of advanced digital integrated circuit technology.

The GBS payload carried on F8 through F10 includes four 130-watt, 24 megabits-per-second (Mbps) military Ka-band transponders with three steerable downlink spot beam antennas as well as one steerable and one fixed uplink antenna. This modification resulted in a 96 Mbps capability per satellite. Three spacecraft give DoD near-global coverage.

Typical GBS information products include video, mapping, charting and geodesy, imagery, weather, distance learning, and other digital data. The GBS satellites' high-power wideband transponders enable high-speed data transmission to the selected broadcast areas. Information is disseminated to a variety of mobile and tactical users, via very small aperture terminals.

Now providing UHF, EHF and GBS communications services on a worldwide basis, the UFO satellite system plays a vital role in meeting the DoD's voice, data and video transmission needs.




Flight data file
Vehicle: Atlas 3B (AC-203)
Payload: UHF Follow-On F11
Launch date: Dec. 17, 2003
Launch window: 9:30 to 11:30 p.m. EST (0230-0430 GMT on 18th)
Launch site: Complex 36B, Cape Canaveral, Florida
Satellite broadcast: Galaxy 3, Transponder 5, C-band



Pre-launch briefing
Launch preview - Our story looking at this Atlas 3 rocket launch of the UHF F11 satellite.



Launch timeline - Chart with times and descriptions of events to occur during the launch.



Weather forecast - The latest forecast for launch day conditions.



Launch hazard area - The restricted area during liftoff.



Ground track - See the trajectory the rocket will follow during its flight.



Orbit insertion - Illustration of UHF F11's trek to geostationary orbit.



UHF satellites - Overview of the U.S. Navy's UHF Follow-On communications constellation.



Atlas 3B vehicle data - Description of rocket being used in this launch.



The RD-180 - Facts and figures about the Russian-built engine to power Atlas 3 and 5.



Atlas directory - See our coverage of previous Atlas rocket flights.



Soviet Space
For the first time ever available in the West. Rocket & Space Corporation Energia: a complete pictorial history of the Soviet/Russian Space Program from 1946 to the present day all in full color. Available from our store.


Choose your store:
U.S. - U.K. - E.U. - Worldwide

Viking patch
This embroidered mission patch celebrates NASA's Viking Project which reached the Red Planet in 1976.


Choose your store:
U.S. - U.K. - E.U. - Worldwide

Apollo 7 DVD

For 11 days the crew of Apollo 7 fought colds while they put the Apollo spacecraft through a workout, establishing confidence in the machine what would lead directly to the bold decision to send Apollo 8 to the moon just 2 months later.


Choose your store:
U.S. - U.K. - E.U. - Worldwide

Gemini 12
Gemini 12: The NASA Mission Reports covers the voyage of James Lovell and Buzz Aldrin that capped the Gemini program's efforts to prove the technologies and techniques that would be needed for the Apollo Moon landings. Includes CD-ROM.


Choose your store:
U.S. - U.K. - E.U. - Worldwide