Atlas rocket to boost U.S. Navy satellite into orbit
BY JUSTIN RAY
SPACEFLIGHT NOW
Posted: December 11, 2003


The last in a long line of communications satellites for the U.S. Navy heads for space Monday night aboard a Lockheed Martin Atlas 3B rocket.

Launch from Cape Canaveral's pad 36B is scheduled for 9:38 p.m. EST (0238 GMT). The evening's launch window extends exactly two hours.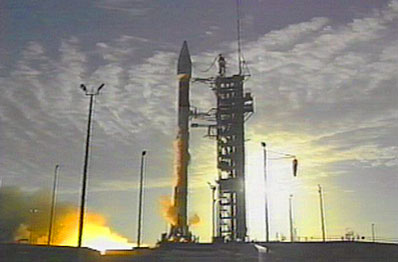 File image of Atlas 3B launching. Photo: Lockheed Martin TV



Riding solely on the power from the Russian-made RD-180 main engine, the 176-foot tall rocket will fly for three minutes on the kerosene/liquid oxygen first stage. After the engine shuts down, the spent stage separates from the Centaur upper stage at T+3 minutes, 7 seconds.

The Centaur's liquid hydrogen/liquid oxygen-fed RL10 engine, built by Pratt & Whitney, will perform a pair of firings, separated by a 10-minute coast period, to inject the 6,705-pound Ultra-High Frequency Follow-On F11 satellite into geosynchronous transfer orbit.

After a 32-and-a-half-minute flight, the satellite cargo will be deployed into an orbit with a high point of 19,387 nautical miles (35,908 km), a low point of 155 nautical miles (287 km) and inclination of 27 degrees to the equator.
| | |
| --- | --- |
| | An artist's concept of UHF spacecraft. Photo: Boeing |
A Boeing 601-model satellite, the UHF F11 will boost itself into geostationary orbit where it will join a network of similar craft providing tactical mobile communications. Users of the system span all branches of the U.S. military as well as the White House, the State Department and the Department of Homeland Security, officials said.

"There are some 20,000 UHF satellite terminals currently in use. Many of these are small and portable enough to be carried deep into military theaters of operation," the Navy says.

The F11 satellite features an ultra-high frequency and extremely-high frequency communications payload.

"The UHF frequency offers the capability of penetrating jungle foliage and inclement weather, as well as urban canyons. U.S. military personnel on the front lines of battle count on UHF communications provided by the UFO spacecraft.

"The EHF subsystem carried on F4 and subsequent satellites provides enhanced antijam telemetry, command, broadcast, and fleet interconnectivity communications, using advanced signal processing techniques."
| | |
| --- | --- |
| | The mission poster for this launch. Credit: ILS |
"Over the life of this highly successful 15-year program, the UFO payloads have evolved to meet the customer's changing needs, and the 11th spacecraft's added capabilities will provide new UHF channels that are critically needed by U.S. forces in active military operations," said Dave Ryan, vice president and general manager of Boeing Satellite Systems. "We take great pride in our role on this program because the UHF mobile service is the backbone of global military communications today, supporting warfighters on land, at sea and in the air."

This is the 11th and final UHF Follow-On satellite to launch. It was built to sustain the constellation until the next-generation Mobile User Objective System becomes available. All 11 UHF Follow-On spacecraft have flown aboard Atlas rockets.

Monday's launch will be the fifth and final Atlas flight in 2003, the fourth to occur from Cape Canaveral and the second using an Atlas 3-series rocket.

See our Mission Status Center page for live play-by-play updates during Monday's countdown and launch. Also, we will post a status report on Saturday morning following the completion of mission managers' Launch Readiness Review that gives final approval to proceed with the countdown.






Flight data file
Vehicle: Atlas 3B (AC-203)
Payload: UHF Follow-On F11
Launch date: Dec. 17, 2003
Launch window: 9:30 to 11:30 p.m. EST (0230-0430 GMT on 18th)
Launch site: Complex 36B, Cape Canaveral, Florida
Satellite broadcast: Galaxy 3, Transponder 5, C-band



Pre-launch briefing
Launch preview - Our story looking at this Atlas 3 rocket launch of the UHF F11 satellite.



Launch timeline - Chart with times and descriptions of events to occur during the launch.



Weather forecast - The latest forecast for launch day conditions.



Launch hazard area - The restricted area during liftoff.



Ground track - See the trajectory the rocket will follow during its flight.



Orbit insertion - Illustration of UHF F11's trek to geostationary orbit.



UHF satellites - Overview of the U.S. Navy's UHF Follow-On communications constellation.



Atlas 3B vehicle data - Description of rocket being used in this launch.



The RD-180 - Facts and figures about the Russian-built engine to power Atlas 3 and 5.



Atlas directory - See our coverage of previous Atlas rocket flights.



Soviet Space
For the first time ever available in the West. Rocket & Space Corporation Energia: a complete pictorial history of the Soviet/Russian Space Program from 1946 to the present day all in full color. Available from our store.


Choose your store:
U.S. - U.K. - E.U. - Worldwide

Viking patch
This embroidered mission patch celebrates NASA's Viking Project which reached the Red Planet in 1976.


Choose your store:
U.S. - U.K. - E.U. - Worldwide

Apollo 7 DVD

For 11 days the crew of Apollo 7 fought colds while they put the Apollo spacecraft through a workout, establishing confidence in the machine what would lead directly to the bold decision to send Apollo 8 to the moon just 2 months later.


Choose your store:
U.S. - U.K. - E.U. - Worldwide

Gemini 12
Gemini 12: The NASA Mission Reports covers the voyage of James Lovell and Buzz Aldrin that capped the Gemini program's efforts to prove the technologies and techniques that would be needed for the Apollo Moon landings. Includes CD-ROM.


Choose your store:
U.S. - U.K. - E.U. - Worldwide

Apollo 12 tribute DVD set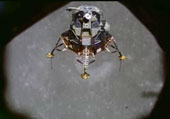 New! Featuring the jovial crew of Pete Conrad, Dick Gordon and Alan Bean, the Apollo 12 mission was struck by lightning shortly after liftoff but proceeded on the second successful exploration voyage to the lunar surface. This three-disc DVD brings the mission to life with extraordinary detail.


Choose your store:
U.S. - U.K. - E.U. - Worldwide

Fallen Heroes special patch

This special 12-inch embroidered patch commemorates the U.S. astronauts who made the ultimate sacrifice, honoring the crews of Apollo 1, Challenger and Columbia.


Choose your store:
U.S. - U.K. - E.U. - Worldwide

Women in Space
Women of Space: Cool Careers on the Final Frontier is for girls, young women, and anyone else interested in learning about exciting careers in space exploration. Includes CD-ROM.


Choose your store:
U.S. - U.K. - E.U. - Worldwide

Mars rover poster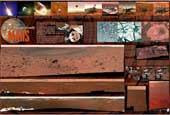 This new poster features some of the best pictures from NASA's amazing Mars Exploration Rovers Spirit and Opportunity.


Choose your store:
U.S.


Get e-mail updates
Sign up for our NewsAlert service and have the latest news in astronomy and space e-mailed direct to your desktop (privacy note: your e-mail address will not be used for any other purpose).