The TDRS-I satellite
FROM NASA PRESS KIT
Posted: March 6, 2002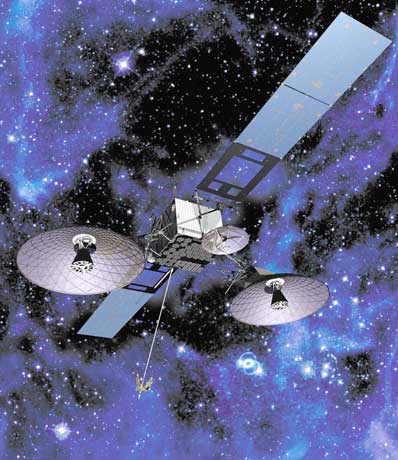 An artist's concept of the TDRS-H, I, J. Photo: Boeing



The Tracking and Data Relay Satellite-I, or TDRS-I, is the second of three satellites built for NASA by Boeing Satellite Systems, Inc. (formally Hughes Space and Communications) of El Segundo, Calif.

The first replenishment satellite, TDRS-H, launched June 30, 2000 from Cape Canaveral Air Force Station, Fla. aboard an Atlas II rocket. NASA acceptance occurred October 17, 2001.

TDRS-I will augment the TDRS' existing S-band and Ku-band frequencies by adding Ka-band capability, adding flexibility and providing higher data rates at a more favorable and less heavily used frequency band that is less susceptible to interference from an increasingly busy radio environment.

Two 15-foot steerable antennas will support the International Space Station with high-resolution digital television, and dump enormous volumes of data at rates up to 300 megabits/second - 5,000 times faster than the average 56K home computer modem.

TDRS-I features a new, Multiple-Access (MA) system*, which can support up to five user spacecraft simultaneously and at higher data rates than the original TDRS fleet.

(*BSS recently modified the Multiple Access (MA) antenna aboard TDRS-I and -J to prevent a performance shortfall, which occurred on TDRS-H. Testing of the modified MA antenna aboard TDRS-I is complete and confirms that it meets specification.)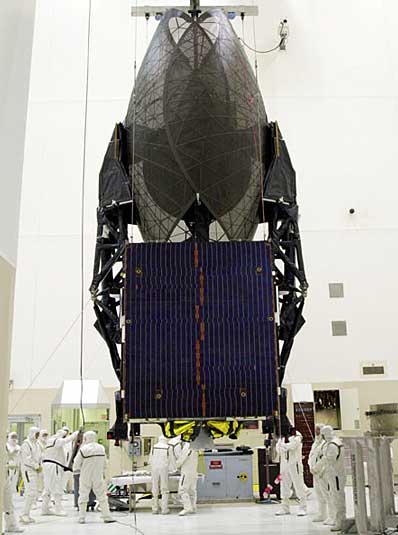 The TDRS-I satellite readied for launch at Kennedy Space Center. Photo: NASA



Spacecraft details
Dimensions: 68 feet (21 meters) long with solar arrays deployed, 43 feet (13 meters) wide with antennas deployed.

Weight: 7,011 at lift-off (3,180 kilograms); 3,918 pounds (1,777 kilograms) estimated beginning of life on-orbit.

Power: Silicon solar cell arrays that generate 2,300 watts; nickel-hydrogen batteries supply payload power during eclipses.

Payload services
The TDRS-H, -I and -J payload consists of two large antennas, which track user satellites orbiting below, providing high data rate communications. These single access antennas are complimented by a MA phased array antenna system. Services provided by the new TDRS trio are as follows:

S-band single access (SSA) -
Tunable over a range of frequencies, including MA frequency;
Can provide high gain support of an MA user satellite with degraded communications, or temporarily provide an increased data rate;
Provides forward and return services to users at a particular location;
Provides two-way communication during user satellite data recorder playbacks, or full-time high-rate service to high-priority users such as the International Space Station and Space Shuttle;
Transmits at speeds up to 6 megabits per second (Mbps) return; 300 kilobits per second (Kbps) forward data rates.
S-band multiple access (MA) -
Provides five MA return channels (user satellite to ground), one MA forward channel (ground to users) per spacecraft;
Features return services that use the same frequency (2287.5 MHz) and code division multiple access to avoid interfering with each other;
Has been upgraded to 3 Mbps return (nearly equivalent to SSA capability) for TDRS H,I,J (versus 100 Kbps for previous TDRS), and up to 300 Kbps forward.
Ku-band single access (KuSA) -
Operates at frequencies between 13.7 to 15.0 GHz, providing higher bandwidth and reduced communications losses for user satellites with data rates to 300 Mbps return, 25 Mbps forward;
Rates support high-resolution digital television for all Space Shuttle video communications;
Also used to swiftly dump large volumes of data from tape or solid-state data recorders aboard NASA scientific spacecraft.
Ka-band single access (KaSA) -
Features a new, high-frequency service that increases data rate capabilities to 300/800* Mbps for future missions requiring higher bandwidth communications such as multi-spectral instruments for Earth science applications (*data rates above 300 Mbps require ground station modifications);
Establishes international compatibility with Japanese and European space relay programs, allowing mutual support in case of emergencies;
High frequency provides high bandwidth, less interference with terrestrial communications, and lower user satellite equipment burden.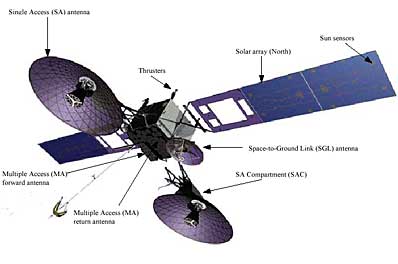 Illustration of TDRS-H, I, J systems. Photo: Boeing



Satellite Navigation - In addition to telemetry and command data communications services, the system will continue to provide user navigational data needed to locate the orbit and position of NASA user satellites.

Mission Lifetime - TDRS-H, -I and -J each have an intended mission lifetime of 11 years, with expendables (fuel) for up to 15 years.

Pre/Post-Acceptance Testing - Boeing Satellite Systems is responsible for pre-acceptance testing, which will be performed from NASA's White Sands Complex in N.M. while the satellite is in a geosynchronous orbit at 150 degrees West longitude. After NASA acceptance, TDRS-I will undergo post-acceptance testing, performed from the White Sands Complex and under the guidance of Goddard's Mission Services Program Office.

Relocation of the Spacecraft - NASA will relocate TDRS-9 to an operational slot, after completion of NASA's post-acceptance testing.

Launch Vehicle - Lockheed Martin Atlas IIA rocket

Launch Site - Launch Complex 36, Cape Canaveral Air Force Station, Fla.

Launch Date and Time - 5:39 p.m. EST at the beginning of a 40-minute launch window, which extends to 6:19 p.m. EST.

Spacecraft Separation - Launch+30 minutes

Acquisition of Signal - Launch+65 minutes, via a ground station in Canberra, Australia.

Cost - Total cost for the TDRS-H, -I and -J spacecraft and White Sands Complex modifications is approximately $485 million; or about $840 million for the entire program (e.g., three satellites, expendable launch vehicles, White Sands Complex renovations and NASA program costs).

Mission Oversight - Goddard's Mission Services Program Office will manage the day-to-day operations of TDRS-9.




Flight data file
Vehicle: Atlas 2A (AC-143)
Payload: TDRS-I
Launch date: March 8, 2002
Launch window: 5:39-6:19 p.m. EST (2239-2319 GMT
Launch site: SLC-36A, Cape Canaveral AFS, Fla.
Satellite broadcast: GE-2, Trans. 9, C-band



Pre-launch briefing
Launch timeline - Chart with times and descriptions of events to occur during the launch.



Ground track - See the trajectory the rocket will follow during its flight.



Launch windows - Available windows for possible future launch dates of TDRS-I.



Atlas 2A vehicle data - Overview of the rocket to be used in this launch.



Atlas index - A directory of our previous Atlas launch coverage.



Gemini 7
Gemini 7: The NASA Mission Reports covers this 14-day mission by Borman and Lovell as they demonstrated some of the more essential facts of space flight. Includes CD-ROM.


Choose your store:
U.S. - U.K. - E.U. - Worldwide

Apollo patches
The Apollo Patch Collection: Includes all 12 Apollo mission patches plus the Apollo Program Patch. Save over 20% off the Individual price.


Choose your store:
U.S. - U.K. - E.U. - Worldwide

Mars Rover mission patch
A mission patch featuring NASA's Mars Exploration Rover is available from our online.


Choose your store:
U.S. - U.K. - E.U. - Worldwide

Apollo 9 DVD

On the road to the moon, the mission of Apollo 9 stands as an important gateway in experience and procedures. This 2-DVD collection presents the crucial mission on the voyage to the moon.


Choose your store:
U.S. - U.K. - E.U. - Worldwide

Apollo 12 tribute DVD set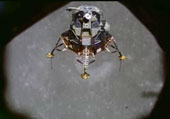 New! Featuring the jovial crew of Pete Conrad, Dick Gordon and Alan Bean, the Apollo 12 mission was struck by lightning shortly after liftoff but proceeded on the second successful exploration voyage to the lunar surface. This three-disc DVD brings the mission to life with extraordinary detail.


Choose your store:
U.S. - U.K. - E.U. - Worldwide

Fallen Heroes special patch

This special 12-inch embroidered patch commemorates the U.S. astronauts who made the ultimate sacrifice, honoring the crews of Apollo 1, Challenger and Columbia.


Choose your store:
U.S. - U.K. - E.U. - Worldwide

Women in Space
Women of Space: Cool Careers on the Final Frontier is for girls, young women, and anyone else interested in learning about exciting careers in space exploration. Includes CD-ROM.


Choose your store:
U.S. - U.K. - E.U. - Worldwide

Mars rover poster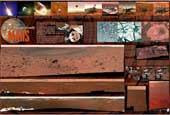 This new poster features some of the best pictures from NASA's amazing Mars Exploration Rovers Spirit and Opportunity.


Choose your store:
U.S.

Columbia Report
The official accident investigation report into the loss of the space shuttle Columbia and its crew of seven. Includes CD-ROM.


Choose your store:
U.S.

Final Shuttle Mission Patch

Free shipping to U.S. addresses!


The crew emblem for the final space shuttle mission is now available in our store. Get this piece of history!


U.S. STORE

WORLDWIDE STORE

STS-134 Patch

Free shipping to U.S. addresses!


The final planned flight of space shuttle Endeavour is symbolized in the official embroidered crew patch for STS-134. Available in our store!


U.S. STORE

WORLDWIDE STORE

Ares 1-X Patch

The official embroidered patch for the Ares 1-X rocket test flight, is available for purchase.


U.S. STORE

WORLDWIDE STORE

Apollo Collage

This beautiful one piece set features the Apollo program emblem surrounded by the individual mission logos.


U.S. STORE

WORLDWIDE STORE

Project Orion

The Orion crew exploration vehicle is NASA's first new human spacecraft developed since the space shuttle a quarter-century earlier. The capsule is one of the key elements of returning astronauts to the Moon.


U.S. STORE

Fallen Heroes Patch Collection

The official patches from Apollo 1, the shuttle Challenger and Columbia crews are available in the store.


U.S. STORE

WORLDWIDE STORE

ERROR: Random File Unopenable
The random file, as specified in the $random_file perl variable was unopenable.

The file was not found on your file system. This means that it has either not been created or the path you have specified in $trrandom_file is incorrect.



The web's best space video service! Get additional video, audio, image and virtual reality content for a low-cost monthly or annual subscription fee. Subscriptions start at $5.95/£3.50. Click here to see what's currently available.


SUBSCRIBE (U.S. Dollars)


SUBSCRIBE (U.K. Pounds)


Hubble Posters


Stunning posters featuring images from the Hubble Space Telescope and world-renowned astrophotographer David Malin are now available from the Astronomy Now Store.


U.S. STORE


U.K. & WORLDWIDE STORE



Get e-mail updates
Sign up for our NewsAlert service and have the latest news in astronomy and space e-mailed direct to your desktop (privacy note: your e-mail address will not be used for any other purpose).