Updated NASA tracking satellite launched into space
BY JUSTIN RAY
SPACEFLIGHT NOW
Posted: July 1, 2000

| | |
| --- | --- |
| | The Lockheed Martin Atlas rocket lifts off from pad 36A on June 30. Photo: NASA/KSC |
A Lockheed Martin Atlas 2A rocket soared into the Central Florida morning sky Friday on a $395 million mission to fortify NASA's communications relay link between Earth and space.

The rocket scored its 51st straight success by delivering the Tracking and Data Relay Satellite-H, or TDRS-H for short, in the planned geosynchronous transfer orbit around the planet.

Liftoff from Cape Canaveral Air Force Station's pad 36A occurred at 8:56 a.m. EDT (1256 GMT), some 18 minutes late due to a boat that had to be chased from the restricted launch danger zone in the Atlantic Ocean. Read our Mission Status Center for a play-by-play description of the countdown launch.

Ground controllers quickly established contact with the new TDRS satellite, confirming its health following the launch. Efforts then began to unfurl the two 15-foot antenna reflectors on the satellite. At about 1:51 p.m. EDT, the mesh structures, which were folded like a taco for launch, sprung into shape after straps holding them in place were cut.

Over the coming two weeks the onboard kick engine will fire several times to boost the satellite's orbit to geostationary altitude at 22,300 miles above the equator. The craft will be parked initially at 150 degrees West longitude to undergo several months of testing and checkout. It will also receive a new designation: TDRS-8.

NASA currently operates a constellation of six other TDRS satellites, all launched aboard space shuttles from 1983 through 1995.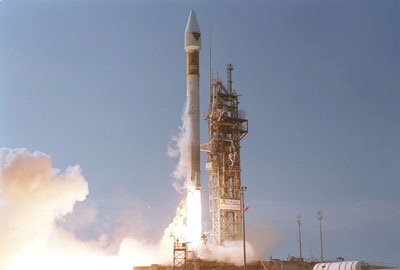 The Lockheed Martin Atlas 2A rocket lifts off on June 30. Photo: NASA/KSC



The TDRS system is NASA's preeminent means of relaying television, data and science information from space shuttles, the Hubble Space Telescope and a host of other robotic space missions. In the future the International Space Station will rely heavily on TDRS satellites.

To keep TDRS functioning into the next decade, the space agency bought three new satellites from Hughes Space and Communications. Known as TDRS-H, I and J, the craft offer increased bandwidth and greater tuning flexibility for relaying science data and clear pictures from space and compatibility with Japanese and European scientific space efforts via Ka-band.

The Ka-band feature, an addition from earlier TRW-built TDRS satellites, has an increased data rate capability of 800 million bits per seconds rather than 300 million bits per seconds provided through other means, and is less susceptible to interference from the increasingly busy radio environment.

"The average age of the existing fleet is more than 10 years, which is beyond the mission design lifetime," said Anthony Comberiate, TDRS Project Manager at NASA's Goddard Space Flight Center, Greenbelt, MD. "The new series will replenish our existing fleet and allow users to migrate to the new Ka-band," allowing a threefold increase in data throughput.
| | |
| --- | --- |
| An artist's concept of the TDRS-H satellite in space. Photo: Hughes | |
"Flexibility is the hallmark of TDRS next generation satellites, which will support 16 current users (including) the Hubble Space Telescope, the space shuttle and soon, the International Space Station," said Randy Brinkley, a Hughes vice president.

"It will provide up to nine real-time links for low- and medium-Earth orbit users," he added. "It's truly a switchboard in the sky."

Upon the completion of testing, the new satellite will be positioned at 171 degrees West longitude, where it will share a position with TDRS-7.

NASA is spending about $830 million on the TDRS-H, I and J effort, including the three satellites, three rockets for the launches and necessary modifications to a ground control station in White Sands Complex.

The space agency says money was saved in this program by simply telling manufacturer Hughes how the satellites needed to perform and letting the company determine the technical specs, as well as using expendable Atlas rockets instead of the more extensive space shuttle for launching.

TDRS-I is currently slated for launch in September 2002, with TDRS-J following in March 2003.

The next Atlas launch is scheduled for July 14 during a window of 1:21 to 3:20 a.m. EDT (0521-0720 GMT) from pad 36B. The Atlas 2AS rocket with four strap-on solid rocket boosters will carry the EchoStar-6 direct-to-home TV broadcasting satellite into orbit to relay programming for DISH Network.




Next launch
Vehicle: Atlas 2A (AC-139)
Payload: NASA's TDRS-H
Launch date: June 30, 2000
Launch window: 1238-1318 GMT (8:38-9:18 a.m. EDT)
Launch site: SLC-36A, Cape Canaveral, Fla.


Flight profile

Track the major launch events for the Atlas 2A rocket carrying the TDRS-H satellite on Spaceflight Now's interactive flight profile page (requires JavaScript).



Pre-launch briefing
Launch timeline - Chart with times and descriptions of events to occur during the launch.



Atlas 2A vehicle data - Overview of the rocket that will launch TDRS-H into space.



TDRS-H - Description of the satellite to be launched on AC-139.



History of TDRSS - Past launches of TDRS satellites and their current status.



Launch windows - Available windows for possible future launch dates of AC-139.



Launch danger zone - Map shows restricted safety area off Cape Canaveral for this launch.



Video vault

The Lockheed Martin Atlas 2A rocket lifts off from Cape Canaveral's pad 36A NASA's TDRS-H satellite.
PLAY (250k, 24sec QuickTime file)


Watch a movie about the planned sequence of events as the Atlas 2A rocket carries the TDRS-H communications satellite into orbit.
PLAY (789k, 1min 51sec QuickTime file)


Animation shows NASA's Tracking and Data Relay Satellite-H working in geostationary orbit above Earth.
PLAY (285k, 24sec QuickTime file)


Satellite builder Hughes tests the 15-foot diameter graphite shaped springback reflector antennas on TDRS-H.
PLAY (169k, 12sec QuickTime file)


Download QuickTime 4 software to view this file.


Inside the blockhouse


Step inside the historic Complex 36 Blockhouse where the 120 members of the launch team control every countdown and liftoff of Atlas rockets from Cape Canaveral.
VIEW (286k QuickTime file)


Download QuickTime 4 software to view this file.


Hubble Posters

Stunning posters featuring images from the Hubble Space Telescope and world-renowned astrophotographer David Malin are now available from the Astronomy Now Store.


U.S. STORE

U.K. & WORLDWIDE STORE


Get e-mail updates
Sign up for our NewsAlert service and have the latest news in astronomy and space e-mailed direct to your desktop (privacy note: your e-mail address will not be used for any other purpose).


Baseball caps

NEW! The NASA "Meatball" logo appears on a series of stylish baseball caps available now from the Astronomy Now Store.


U.S. STORE

U.K. & WORLDWIDE STORE

Station Calendar
NEW! This beautiful 12" by 12" wall calendar features stunning images of the International Space Station and of the people, equipment, and space craft associated with it, as it takes shape day by day in orbit high above the Earth.


U.S. STORE

U.K. & WORLDWIDE STORE