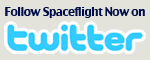 Antares launch timeline
SPACEFLIGHT NOW
Posted: September 14, 2013

T-00:00
Main Engine Ignition
The Antares rocket's two AJ26 engines ignite on the launch pad.
T+00:02
Liftoff
Producing about 730,000 pounds of thrust, the rocket's two main engines propel the 131-foot-tall Antares rocket into the sky.
T+03:53
First Stage Shutdown
After consuming its supply of kerosene and liquid oxygen propellants, the Antares first stage shuts down at an altitude of about 66 miles.
T+03:58
First Stage Separation
The first stage separates from the second stage, which begins a 91-second coast phase.
T+0:5:20
Fairing separation
After flying out of the dense lower atmosphere, the Antares rocket jettisons its clamshell-like 12.8-foot-diameter payload fairing.
T+0:5:25
Interstage jettison
The interstage adaptor connecting the first and second stages is jettisoned.
T+05:29
Second Stage Ignition
The rocket's solid-fueled Castor 30 second stage ignites at an altitude of 116 miles, ramping up to nearly 90,000 pounds of thrust during a 153-second burn.
T+08:02
Second Stage Shutdown
The Castor 30 second stage burns out after reaching a target orbit with a perigee of 151 miles, an apogee of 186 miles, and an inclination of 51.64 degrees.
T+10:02
Payload separation
The second stage deploys the Cygnus spacecraft.


Data source: Orbital Sciences Corp.




Final Shuttle Mission Patch

Free shipping to U.S. addresses!


The crew emblem for the final space shuttle mission is now available in our store. Get this piece of history!


U.S. STORE

WORLDWIDE STORE

STS-134 Patch

Free shipping to U.S. addresses!


The final planned flight of space shuttle Endeavour is symbolized in the official embroidered crew patch for STS-134. Available in our store!


U.S. STORE

WORLDWIDE STORE

Ares 1-X Patch

The official embroidered patch for the Ares 1-X rocket test flight, is available for purchase.


U.S. STORE

WORLDWIDE STORE

Apollo Collage

This beautiful one piece set features the Apollo program emblem surrounded by the individual mission logos.


U.S. STORE

WORLDWIDE STORE

Project Orion

The Orion crew exploration vehicle is NASA's first new human spacecraft developed since the space shuttle a quarter-century earlier. The capsule is one of the key elements of returning astronauts to the Moon.


U.S. STORE

Fallen Heroes Patch Collection

The official patches from Apollo 1, the shuttle Challenger and Columbia crews are available in the store.


U.S. STORE

WORLDWIDE STORE